Reef to the Red Centre
Distance
6,400 km / 4,000 mi
---
Queensland & Northern Territory: Tropical north Queensland to the red centre of Australia
Cairns' tropical coastline with the internationally renown Great Barrier Reef and the dusty expanses of the Red Centre might be two of Australia's most iconic attractions, but very few ever make the journey between them by road. Leaving the tropical splendour of Cairns and the scenic Atherton Tableland behind us we hit the tracks west to experience a genuine Outback culture and amazing, rarely seen, landscapes at such little-known outposts as Cobold Gorge, Adels Grove, Boulia and Tobermorey Station. Rounding off this extraordinary ride in the geographical centre of Australia at "The Alice".
This tour will run in 2023 with some modifications making it a Grade 3 ride. Contact us to express your interest and receive a notification when tour dates and prices are available.
Dates and Pricing
Itinerary
---
Day 1: Your Cairns airport transfer will take you directly to our joining hotel, ready for an early start tomorrow. Today you will meet your crew for your tour briefing and welcome dinner.
Day 2: We ride the wonderful twisties of the Gilles Range as we ascend onto the fertile Atherton Tablelands. We cross the Herberton Range and ride onto the geological phenomenon of the Undara Lava Tubes.
Day 3 & 4:After a guided tour of the lava tubes we continue on and cross the remote, rarely visited Rope Walk Ranges onto the spectacular Cobold Gorge. We spend two nights here allowing us to spend 3 hours cruising this stunning gorge and riding around this superb Gulf Savannah location.
Day 5:Another remote riding day as we cross through a vast empty landscape known as the Savannah, before arriving at the prawn capital of Australia, Karumba, on the shores of the Gulf of Carpentaria.
Day 6:Leaving Karumba behind we hit the dirt after Normanton.The ride continues from bore, (waterholes) to bore through a landscape of termite mounds and golden Savannah. We see the day out at the tiny outback community of Gregory Downs!!
Day 7:We cross the Gregory River, lined with palms and ferns, on our way to the UNESCO listed Riversleigh Fossil site. The afternoon is spent canoeing at the incredibly spectacular Lawn Hill Gorge before overnighting in the wonderful community of Adel's Grove
Day 8:We ride south today, initially on dirt, through a golden landscape of spinifex and ancient escarpments before reaching the quintessential "Aussie" outback town of Mt Isa
Day 9:Leaving "the Isa" behind we enter "Channel Country, named for the myriad of channels crisscrossing the landscape and a tough remote sparsely populated south-western corner of Queensland.
Day 10:The ride veers west today as we hit the dirt of the legendary outback track known as the Donahue Highway. The track travels through a spare landscape dotted with giant termite mounds and crosses into the NT before our overnight camp at the 6000 square kilometer Tobermorey Station.
Day 11:View spectacular desert scenery as we ride through some of the most remote country in the world! Crossing from Queensland into the Northern Territory we continue onto the wonderfully remote Jervois Homestead, our overnight stop.
Day 12:After a number of days riding across an impossibly vast & open "big sky" landscape we will be surprised to see the Harts Mountain Range loom into view. It isn't long before we hit the pavement and reach Alice Springs for a good earned beverage and to wash off the layers of dust and celebrate the end of our epic ride from the Barrier Reef to the red centre of Australia.
Departure day: Spend some time in Alice Springs or fly home, the choice is yours.
READ MORE
Upgrades
---
All accommodation is twin or double share, if you would like a single room there will be a single supplement: AU$ 1,090.00
(Please note, you may be required to share a bathroom at least once on this trip).
Our motorcycles are insured and have a damage excess of AU$ 4000, you can reduce the excess by taking advantage of our Excess Reduction Policy: AU$ 25 per day
READ MORE
---
Ride Profile
70% of this ride is paved, this pavement can vary from great well maintained roads to a series of potholes connected by a thin ribbon of asphalt. Some roads are single lane width only.
30% of this ride is Off-Road, these sections are generally hard packed gravel that can be at times loose and rutted, along with small sections of sand. A small number of shallow creek crossings may be encountered and hard to see bulldust holes can be present.
Massive "roadtrains" and wandering cattle and "roos" can also be present.
Tour Start/End
Tour Start: Cairns, Queensland, Australia
Tour End: Alice Springs, Northern Territory, Australia
Climate
It's winter so we can expect less humidity, but still some warm days of up to 30 Degrees Celsius with clear skies. Rain is rare this time of year, however it could be possible around Cairns & Darwin. Cool nights should be expected especially in the desert with temperatures dropping to near zero at night.

Important Information
All riders must have a valid motorcycle license and at least two years riding experience.
It is a requirement that all clients have appropriate insurance for this type of expedition.
Ride Grade
3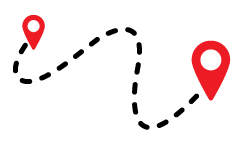 Ride Distance
6,400 km / 4,000 mi
Sealed / Dirt
90% / 10%
Accommodation
---
12 nights of accommodation.
9 nights in 3-4 star hotels and resorts and 3 nights remote camping
A flexible attitude is needed, as services in these extremely remote regions of Australia may be not what you are accustomed to.
All accommodation is on a twin share basis. If you are traveling alone we will pair you up with another solo traveler. However, if you prefer single accommodation a single supplement is available: AU$ 1,090.00 (please note that you may be required to share a bathroom at least once on this trip)
READ MORE
Dining
---
On every day of the tour we include breakfast: 12 Breakfasts
On mentioned ride days we provide a picnic lunch that we prepare ourselves from our mobile kitchen: 11 Lunches
We include mentioned dinners in reliable restaurants we have used many times before: 7 Dinners
READ MORE
Bikes
---
BMW R1200GS

1200cc Twin cylinder boxer engine
Seat height 90cm (35In) Approx.
Inner Leg Curve 195cm (78in) Approx
Heated Hand Grips
BMW style accessory power socket
Top Box
Engine protection bars
Bash plate
Dual purpose tyres

BMW F800GS

800cc Parallel twin cylinder engine
Seat height 88cm (34In) Approx.
Inner Leg Curve 193cm (76in) Approx
Heated Hand Grips
BMW style accessory power socket
Top Box
Engine protection bars
Bash plate
Dual purpose tyres


BMW F700GS

800cc (de-tuned) Parallel twin cylinder engine
Seat height 82cm (32In) Approx.
Inner Leg Curve 181cm (71in) Approx
Heated Hand Grips
BMW style accessory power socket
Top Box
Engine protection bars
Bash plate
Dual purpose tyres
Low seat option available (79cm / 31 in)

Suzuki DR650

650cc single cylinder engine
Seat height 85.5cm (33.6In) Approx.
Long range fuel tank (not pictured)
BMW style accessory 12v power socket
Bark Busters
Bash plate
Dual purpose tyres
book now
JOIN THE WAITLIST
Insurance
---
Accidents happen, luggage is lost and tour or flight cancellations can occur, so it is our policy that all participants of Compass Expeditions tours have an appropriate level of travel insurance to cover the unforeseen. This is not only compulsory when joining our tours, but it makes sense.
If choosing your own insurance – for motorcycle tours it is crucial the insurance policy you choose will offer a policy for riding a motorcycle OVER 250cc (including our bikes). This is a critical point to ensure when purchasing a policy.
Our experienced In-house travel team are happy to help with getting you the right insurance for your tour and for any other travel you might be doing before or after. Contact our in-house travel team.