Mongolian Magic
Distance
2,170 km / 1,360 mi
---
Mongolia: One of the world's last true wild frontier rides
Mongolia is an outstanding bikers destination, a country blessed with pure air and an incredible clarity of colour, there simply isn't anywhere else on earth quite like it. If endless grassy steppes dotted with brilliant white Gers, vast rugged landscapes populated with wild horses, camels and yaks, Buddhist monasteries virtually wiped out under Stalinist rule, a wonderful retreat from our hectic pace of life is your thing, then Mongolia is your destination. It's hard to imagine that this remote part of the planet once created the largest land empire the world had ever seen under Ghenggis Khan. Join us as we ride the "largest paddock on earth".
This tour can be ridden back to back with our Kyrgyzstan Explorer tour to extend your Central Asian adventure.
Images courtesy of Ian Emmett.
Dates and Pricing
18th Jul 2023 to 2nd Aug 2023

Tour code: MM/180723
Rider / Suzuki DR 650
US$7880
FULL
Rider / BMW F800 GS
US$7880
AVAILABLE
Pillion / Support Vehicle
US$6250
AVAILABLE
18th Jul 2024 to 2nd Aug 2024

Tour code: MM/180724
Rider / Suzuki DR 650
US$8660
AVAILABLE
Rider / BMW F800 GS
US$8660
AVAILABLE
Pillion / Support Vehicle
US$6870
AVAILABLE
Itinerary
---
Day 1: Your Ulaan Baatar airport transfer will take you directly to our joining hotel, ready for a mid morning start tomorrow. Today you will meet your crew for your tour briefing and welcome dinner.
Day 2: A short ride today as we become accustomed to our bikes and riding in Mongolia. We visit one of the most stunning regions in Mongolia, the Gorkhi- Terelj National Park, a region of mountains, rivers and bizarre rock formations arriving early for lunch and a chance to explore the surrounding region in the afternoon.
Day 3: A full day exploring the Tuur River Valley and the mammoth Genghis Khan Statue before returning for our second night at our 5 star accommodation
Day 4: A longer ride today as we head due north toward Russia and into the Selenge Aimag (province) through a vast unspoiled landscape of rolling green hills and distant valleys. We arrive at the gateway city of Darkhan for a night in another great hotel, our last for a few days.
Day 5: Today we ride into an incredibly remote part of Mongolia, an utterly silent landscape dotted with Gers, yaks and wild horses, before hitting the dirt via a series of tracks that roughly follow the Selenge River. We visit the Amarsbaysagalant Monastery where we have our first ger camp experience under an impossibly star laden sky.
Day 6: Today will offer some of the finest riding as we ride across the vast Mongolian Steppes and yawning valleys of green, bordered by distant mountains. Another wonderful ger camp experience.
Day 7 & 8: Known as the "blue pearl of Mongolia" Khovsgol Nuur (lake) is utterly stunning; located in the shadow of a series of towering granite peaks. The ride into the lake is via a superb track that winds its way through an alpine forest and over a steep pass. Another day is spent here allowing us to explore this absolutely stunning alpine lake region
Day 9: A short ride today as we head back to Moron and hit the dirt again as we ride 16 km south on a barely discernible track to a spectacularly located ger Camp set at the foot of a mountain.
Day 10: Leaving the hospitality of the ger camp behind we continue due south into the most remote regions of the entire ride, crossing into the Arkhangai Aimag all on dirt. The scenery is breathtaking, riding spectacular & the silence stunning.
Day 11 & 12: Definitely the most challenging riding day today as we venture further into remote Mongolia; this is a region rarely visited, it is a region of mountain passes, epic Mongolian Steppe, pure air and a wonderful clarity of colours. We arrive at one of Mongolia's highlights Khorgo–Terkhiin Tsagaan Nuur or Great White Lake where we spend two nights allowing us time to soak in this idyllic landscape.
Day 13: Today we ride through a landscape of volcanic craters and lava fields with occasional herds of grazing yaks to keep us alert. After so many days spent in superb wilderness it is somewhat of a shock to stay at a town again, but a stay at the Australian owned and run Fairfield Guesthouse is a must.
Day 14: We hit the pavement today but its smoother on the dirt beside the road; the landscape remains beautiful and we will visit the former capital of Kharkhorin, founded by Chenggis Khan in the mid 13th Century.
Day 15: Our final day on the bikes will see us leaving the ancient capital on narrow paved roads that progressively become busier, at least the roads seem busy compared to the last two weeks of empty track riding! We shall arrive into the capital of Ulaan Baatar mid afternoon.
Departure day: Spend some time in Ulaan Baatar or fly home, its up to you.
READ MORE
Upgrades
---
All accommodation is twin or double share, if you would like a single room there will be a single supplement: US $1,080
(Please note, you may be required to share a bathroom at least once on this trip).
Our motorcycles are insured and have a damage excess of US$ 4000, you can reduce the excess by taking advantage of our Excess Reduction Policy: US$ 25 per day
READ MORE
---
Ride Profile
40% of this ride is off road; Mongolia has an ever shifting network of dirt tracks that cross open pasture lands, valleys & mountain passes. These tracks can have deep potholes, washouts and rocks. They can become slippery if wet. On a small number of occasions we will cross creeks and shallow rivers with muddy entrance and exit points.
60% of this ride is on paved road, however on some paved roads we are better off riding on the dirt!! Expect huge potholes, tall shoulders and bad cambers. Some roads are, however, brand new and almost all are empty.
Tour Start/End
Tour Start: Ulaan Baatar, Mongolia
Tour End: Ulaan Baatar, Mongolia
Climate
We visit Mongolia is in the summer from June to August when the average minimum is around 12°C (54°F) and the average maximum is around 26°C (80°F). Mongolia has 260 days of sunshine per year however afternoon thunderstorms are not uncommon. Around Khovsgol Nuur colder daytime temperatures can also be expected dipping to 0 Celsius overnight.
Important Information
All riders must have a valid motorcycle license and at least two years riding experience.
It is a requirement that all clients have appropriate insurance for this type of expedition.
Ride Grade
4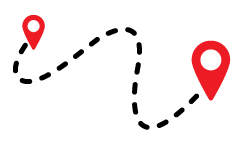 Ride Distance
2,170 km / 1,360 mi
Sealed / Dirt
60% / 40%
Accommodation
---
15 nights of accommodation: 7 nights in 3 to 4 star hotels, 8 nights in established ger camps.
A flexible attitude is needed, as services in these extremely remote regions of Central Asia will NOT be what you are accustomed to.
All accommodation is on a twin share basis. If you are traveling alone we will pair you up with another solo traveler. However, if you prefer single accommodation a single supplement is available: US$ 1,080.00 (please note that you may be required to share a bathroom at least once on this trip)
A note on ger camps; our ger camps are pre-erected traditional carpet floored & felt lined tents that are very large, each one with a log fire as the centrepeice. Each tent has has a number of beds with mattresses, pillows & linen.

READ MORE
Dining
---
On every day of the tour we include breakfast: 15 Breakfasts
On mentioned ride days we provide a picnic lunch that we prepare ourselves from our mobile kitchen: 10 Lunches
We include mentioned dinners in reliable restaurants we have used before: 12 Dinners
READ MORE
Bikes
---
Suzuki DR650

650cc single cylinder engine
Seat height 85.5cm (33.6In) Approx.
Long range fuel tank (not pictured)
BMW style accessory 12v power socket
Dark Busters
Bash plate
Dual purpose tyres

BMW F800GS

800cc Parallel twin cylinder engine
Seat height 88cm (34In) Approx.
Inner Leg Curve 193cm (76in) Approx
Heated Hand Grips
BMW style accessory power socket
Top Box
Engine protection bars
Bash plate
Dual purpose tyres
book now
JOIN THE WAITLIST
Insurance
---
Accidents happen, luggage is lost and tour or flight cancellations can occur, so it is our policy that all participants of Compass Expeditions tours have an appropriate level of travel insurance to cover the unforeseen. This is not only compulsory when joining our tours, but it makes sense.
If choosing your own insurance – for motorcycle tours it is crucial the insurance policy you choose will offer a policy for riding a motorcycle OVER 250cc (including our bikes). This is a critical point to ensure when purchasing a policy.
Our experienced In-house travel team are happy to help with getting you the right insurance for your tour and for any other travel you might be doing before or after. Contact our in-house travel team.