Mediterranean to the Balkans
Distance
3,440 km / 2,140 mi
---
Venice to Ljubljana: Discover the French island of Corsica, ride Tuscany and explore the stunning Balkans on this exciting 6 country ride
Italy, French Corsica, Croatia, Montenegro, Bosnia-Herzegovina and Slovenia: From the legendary, must see, European cities of Venice & Rome to the French owned, mountainous island of Corsica, this is a unique 3-week ride that explores the celebrated but also unknown parts of the Mediterranean and Adriatic regions of south east Europe. Visiting the incredible Balkans offers an idyllic collection of countries hugging the pebbled shores of the Adriatic Coast; home to sleepy villages, turquoise waters and an impossibly mountainous regions dotted with stunning monasteries and historic villages. Visit six countries as we explore the Med, Adriatic & Balkans all in one ride.
Please note: the advertised departure date may need to change by one or two days, depending on the not yet released ferry time table for next year. We will also briefly visit Albania and Austria on our route.
4th Sep 2023 to 24th Sep 2023
Tour code: MB/040923
2nd Sep 2024 to 22nd Sep 2024
Tour code: MB/020924
Itinerary
---
Day 1: Your venice airport transfer will take you directly to our joining hotel, ready for an early start tomorrow. Today you will meet your crew for your tour briefing and welcome dinner.
Day 2: Leaving the city of marble palaces we enter renowned Tuscany on our way to the amazing Leaning Tower of Pisa
Day 3: A short ride today as we catch the ferry across to the French controlled island of Corsica, and birthplace of Napoleon, that rises from the Mediterranean
Day 4: We spend the day exploring Europe's most mountainous region, Corsica, exploring its stunning coast road and narrow winding mountains roads, it's thrilling stuff.
Day 5: Another day exploring the breathtaking coastal scenery and the endless twisties of the incredibly mountainous island of Corsica
Day 6: Crossing back into Italy, it's a short ride to our 5 star hotel in Livorno, spectacularly located on the shores of the Ligurian Sea
Day 7: Heading south we ride the ancient Roman road, the Via Cassia, through the UNESCO listed Val d'Orcia . We enjoy lunch at the stunning hilltop village of Montalcino, offering iconic views of Tuscany, before arriving into the legendary Rome
Day 8: We spend a day exploring this mighty city, visiting the incomparable St Peter's Basilica, Pantheon, Colosseum and much more, it's a walk through history today
Day 9: Back on the road we continue south passing through Naples, via Pompeii, where we have a guided tour, before entering the UNESCO listed Amalfi Coast, a storied landscape of breathtaking coastal scenery and pastel coloured villages
Day 10: We swap the bikes for a boat as we explore this stunning region the best way possible, from the water with a visit to the superb Isle of Capri. The Amalfi Coast is an otherworldly landscape of villages cascading from the mountains to the water's edge and houses on the edge of towering cliffs
Day 11: This morning ride is one you will never forget as we ride the breathtaking Amalfi Coast and its extraordinary scenery. Leaving the coast we ride east visiting the stunningly located hilltop village of Castelmezzano in the Dolomiti Lucane Mountains before reaching the port city of Bari and catching the overnight ferry to Dubrovnik, Croatia
Day 12: We awake early as we disembark in Dubrovnik, Croatia and spend the day exploring this fabled old town.
Day 13: Another full day to explore the awe-inspiring Dubrovnik, perhaps take the cable car for epic views of the city and Adriatic or visit Fort Lovrijenac, where the Game of Thrones was filmed
Day 14: We cross into Montenegro and ride the magnificent coastal road, stopping for lunch at beautiful Perast then onto the stunning switchbacks of the Kotor Serpentine Road before overnighting at a remote ski lodge high in the Lovcen National Park
Day 15: A shorter riding day today and another country, Bosnia-Herzegovina. We again take the road less travelled, through empty narrow back roads before arriving early into beautiful Mostar, famous for its 16th Century bridge built by the Ottomans and still bearing the scars from the recent conflict
Day 16: Turning west we return to Croatia, via beautiful Konjic and the incredible Tito's Bunker, through the epic Blidinje National Park, and then ride the Adriatic Coast road to the UNESCO listed old town of Trogir, spectacularly located on the Adriatic coast
Day 17: Today we catch a bus into Split, 20ks from Trogir, for a guided tour of this magnificent old town before returning to the peace of Trogir
Day 18: We follow the stunning coast along the Adriatic today passing through endless coastal villages before ascending into the spectacular twisties of the Ucka Nature Park. We cross onto the Istria Peninsula town of Porec, site of the amazing 6th century Euphrasian Basilica not to mention some fine dining and a wine bar located in 14th century towers!
Day 19: Leaving the Istria Peninsula we ride northeast and into the stunning mountains that border Austria, a landscape of epic alpine valleys and peaks. We see the day off at the awe-inspiring Lake Bled perfectly located in the Julian Alps
Day 20: Our final day will see us exploring the beauty of this alpine region, crossing into Austria for 30 minutes, and enjoy one of the most epic rides of the entire trip, the Solcava Panorama Route, before reaching the Slovakian capital of Ljubljana late afternoon
Departure day: Spend some time in the wonderful Ljubljana or fly home.
READ MORE
Included
---
Airport Transfers
Motorcycle rental as per your selection.
Fuel
Support vehicle with passenger carrying ability
20 nights accommodation in excellent small hotels
20 breakfasts
16 lunches
12 Dinners
Services of ride leader and support vehicle driver
Access to Compass Expeditions App
Pre-departure material and route maps
Access to satellite phone, pay per minute
Compass Expeditions tour shirt
Aluminium water bottle
Entrances to all attractions mentioned in the itinerary
Not Included
---
International Flights
Visas (if required)
Personal Health/Travel Insurance
Tips and gratuities
READ MORE
Upgrades
---
All accommodation is twin or double share, if you would like a single room there will be a single supplement: EUR 2 595
Our motorcycles are insured and have a damage excess of EUR 2500, you can reduce the excess by taking advantage of our Excess Reduction Policy: EUR 35 per day
READ MORE
Ride Details
---
Ride Profile
99% of this ride is on pavement; some sections of pavement can be potholed and narrow with tall & damaged shoulders. Some roads in the mountains of Croatia have gradients of up to 14% Some driving techniques in the Balkan countries might not be what you are used to at home.
1% of this ride will be on dirt. Most dirt is roadworks with sections that can have loose gravel. One 4k / 2.5ml section in Tuscany will be on dirt that is hard packed with a little gravel
Tour Start/End
Tour Start: Venice, Italy
Tour End: Ljubljana, Slovenia
Climate
We can expect the weather to be warm in Venice as we will be coming to the end of summer with average day temperatures of 27.2°C (81°F). There is the possibility of the occasional rain, but sunny most of the time. As we head south towards Rome the temperatures will become warmer during September, but the beginning of the milder autumn season could see the average temperatures drop to the comfortable range of 15°C (59°F) to 26.7°C (80.1°F). Heading east should bring beautiful weather with long days and moderate temperatures ranging from 18.4°C (65.1°F) to 25.1°C (77.2°F) However in the mountains of Slovenia temps as low as 5°C (41°F) in the early mornings should be expected
Important Information
All riders must have a valid motorcycle license and at least two years riding experience.
It is a requirement that all clients have appropriate insurance for this type of expedition.
Ride Grade
1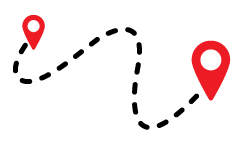 Ride Distance
3,440 km / 2,140 mi
Sealed / Dirt
99% / 1%
Accommodation
---
20 nights of accommodation.
Our accommodations range from small family run hotels through to 5-star hotels.

A flexible attitude is needed as standards are not always what we are accustomed to.
All accommodation is on a twin share basis. If you are traveling alone we will pair you up with another solo traveler. However, if you prefer single accommodation a single supplement is available:EU$ 2 595.00

READ MORE
Dining
---
On every day of the tour we include breakfast: 20 Breakfasts
On mentioned ride days we provide a cafe / restaurant lunch 16 Lunches
We include mentioned dinners in reliable restaurants we have used before: 12 Dinners
READ MORE
Bikes
---
BMW F750GS

853cc Parallel twin cylinder engine (de-tuned)

Seat height 81cm (32In) Approx.
Inner Leg Curve 183cm (72in) Approx
Heated Hand Grips
BMW style accessory power socket
Engine protection bars
Bash plate
Dual purpose tyres

BMW F850GS

853cc Parallel twin cylinder engine
Seat height 86 cm (33.8 In) Approx.
Inner Leg Curve 190cm (75in) Approx
Heated Hand Grips
BMW style accessory power socket
Engine protection bars
Bash plate
Dual purpose tyres


BMW R1250 GS

1254cc Parallel twin cylinder engine
Seat height 85 cm (33.5 In) Approx.
Inner Leg Curve 187cm (73.5in) Approx
Heated Hand Grips
BMW style accessory power socket
Engine protection bars
Bash plate
Dual purpose tyres

Insurance
---
Accidents happen, luggage is lost and tour or flight cancellations can occur, so it is our policy that all participants of Compass Expeditions tours have an appropriate level of travel insurance to cover the unforeseen. This is not only compulsory when joining our tours, but it makes sense.
If choosing your own insurance – for motorcycle tours it is crucial the insurance policy you choose will offer a policy for riding a motorcycle OVER 250cc (including our bikes). This is a critical point to ensure when purchasing a policy.
Our experienced In-house travel team are happy to help with getting you the right insurance for your tour and for any other travel you might be doing before or after. Contact our in-house travel team.
So you've read all the info and think you're ready?...